Signs of a Bee Infestation
You might already know that you have a Bee problem. But here are a couple of the most common signs of a bee infestation in Wallingford, CT.
Sightings
Bees are most often seen buzzing near flowers, from fruit tree blooms to decorative plants.
Activity
Carpenter bees drill holes in wood. These infestations are usually found in uncured wood in trees, fences, homes, wooden decks or outdoor furniture, or telephone poles.
Nests
Some kinds of bees make a visible nest. Most of these in Wallingford, CT are either honeybees or a type of wasps — which are often mistaken for bees.
Get a FREE quote
How can SK Pest help you remove bee infestations?
Execute a thorough inspection to identify the bees involved, their access points and the areas of activity.
Work with the homeowner to come up with a comprehensive bee control plan that can be designed and implemented.
Take measures to ensure that re-infestation will not occur.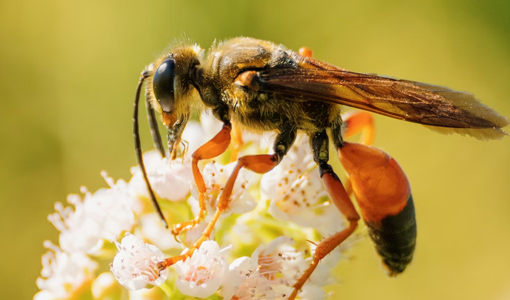 What You Need to Know About Bees
Bees like to hide in the cracks and spaces around your Wallingford, CT home. This includes around pipes, doors and windows, and by the sill plates and foundation.
Sometimes the bees we see outside are actually honey bees. These bees are essential to the environment and are usually harmless, as they spread pollen between plants and collect nectar for honey.
If honey bees become invasive, you should contact a local beekeeper to remove them. SK Pest treats for all other types of bees.
Helpful Bee Prevention Tips:
Always clean and cover your garbage cans.
Use silicone-based caulk, fine mesh steel metal screens, and steel plates to seal common entry points.
Watch for nests.